ALDL (GM OBD1) Cable with 16 pin Connector
Serial
| | |
| --- | --- |
| | |
This cable is for 1994 and 1995 OBD1 cars equipped with the 16 pin OBD2 style connector (Camaros, Firebirds, Corvettes, and LT1 equipped cars are a few), and has a 16 pin OBD2 connector shell to plug in under your car's dash to interface to your car's ECM/PCM. This cable is the most convenient to use if your car is equipped with the 16 pin connector style, as it allows you to just feel under the dash to plug it in. See our GM OBD1 home page for references and diagrams of the connector styles, or see the OBD2 diagram below. Please check under your 94-95 car's dash and make sure it has the 16 pin style connector before ordering this cable.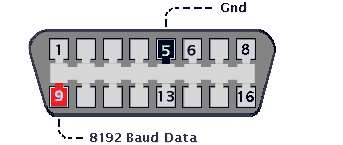 94 and 95 cars that are equipped with the 16 pin OBD2 style connector have built in +12v power coming off of pin 16 and ground coming off of pin 5. The 8192 baud serial data comes off of pin 9 in these connectors. This +12v power arrangement allows us to build a simpler cable with no lighter plug +12v needed.
This cable will not work on 1996 and later OBD2 cars! Although the connector style is the same, 96 and later cars use the OBD2 communications protocol, and are not backward compatible to earlier year cars. The 94 and 95 cars that are equipped with the OBD2 style connector actually have OBD1 ECM/PCM systems behind them. If you have a 1996 or later obd-2 car, buy our OBD2 Allinone scan tool.
This 16 pin shell cable will not plug into the 12 pin style OBD1 ALDL connector found on most 84 to 95 cars. If you want the ultimate in compatibility for all years of OBD1 cars, including your 94 and 95, buy the bare pin cable.