J1939 Scanning Kit
This kit includes everything you need to get started scanning your heavy equipment:
The OBD Diagnostics J1939 Scan Tool
A 6 ft J1939 Cable to connect the scan tool to the vehicle 9-pin Deutsch jack
A 6ft USB cable to connect from the scan tool to your computer
Our J1939Scan software
J1939Scan Software
The J1939 diagnostic software that is included as a part of this kit allows you to view real-time sensor data and read and reset diagnostic trouble codes (DTCs). All of the functions are specified using a configuration file, which you can edit to suit your particular vehicle.
Automated PGN Scan
Not all vehicles support all PGNs that the J1939 specification allows. Determining which PGNs are supported can be a difficult task for the user as well as cause a performance hit to the system by requesting many parameters that the vehicle does not support. Our J1939Scan software allows the user to do an automoted PGN scan of the vehicle which will methodically gothrough all the PGNs in the J1939 specification and determine if the vehicle supports it. The automated scan will then create a baseline configuration file using only the parameters that the vehicle supports.
Once the configuration file has been created, the user can edit the PGN and Parameter lists: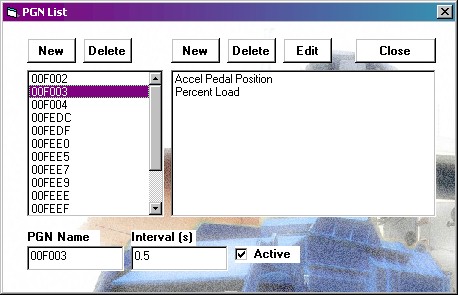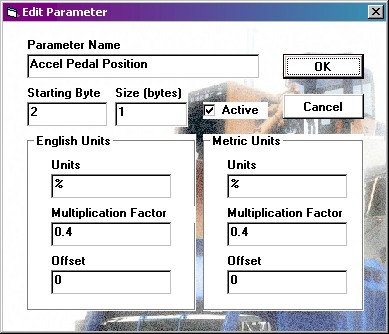 Parameter Display Choices
As the system is running, the user can view real-time sensor readings in a variety of ways. One of the most common is to view the data iin tabular form such as the screen capture below.
Logging
The real time sensor data that is captured can be saved to a log file. You can then import this log file into Excel or any other program to do historical comparisons.